Long-Term Care Insurance by Mutual of Omaha
Founded in 1909, Mutual of Omaha is a Fortune 500 company providing insurance, banking, and financial products for individuals, businesses and groups throughout the United States.
In addition to long-term care insurance, which emerged into product offerings in 1987, the company provides a variety of financial services, including Medicare Supplements, life insurance, annuities, as well as group coverage including life, disability and 401(k).
With rich benefits built in to the "out of the box" long-term care policy structure and options to strengthen and customize every plan, Mutual of Omaha is one of the top two long-term care insurance providers in the US., accounting for a major portion of all new long-term care policies.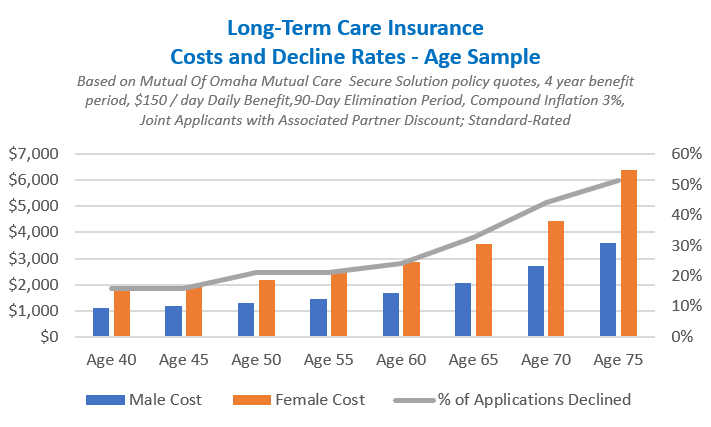 Mutual of Omaha MutualCare Long-Term Care Insurance Solutions
Mutual of Omaha's MutualCare Secure Solution and MutualCare Custom Solution are tax and partnership-qualified traditional long-term care plans designed to protect your retirement assets and income by helping you pay for home health care, assisted living facility care, adult day care, facility care and more.
MutualCare Secure Solution Long-Term Care Insurance:
MutualCare Secure Solution is a traditional long-term care policy providing payment for qualified long-term care services and security for retirement savings. With options for $1,500 to $10,000 in monthly benefits for nursing home assisted living, adult day care and in-home care expenses, this plan includes many other rich benefits, _built in,_ in example, a cash benefit; 30% of your monthly benefit available from day one of a qualified and physician-certified care event, with no receipts to submit, and waiver of premium while you are receiving the cash benefit or covered home health care services at least eight days in a month or assisted living or nursing home services.
New to this plan is the "compounding 20 years" feature, at 3% or 5%; an excellent tool for premium reduction for those in their 60s and 70s seeking to build a more affordable long-term care policy with focus on long-term care costs at the average age of need for long-term care services.
MutualCare Custom Solution Long-Term Care Coverage:
MutualCare Custom Solution provides greater customization in many areas, allowing for a plan built for your specific vision for long-term care. MutualCare Custom Solution has all the benefits of MutualCare Secure Solution, plus greater elimination (waiting) period options, numerous options for inflation protection, a joint waiver of benefits option, increased cash benefit (40%), return-of premium options and plan durations greater than five (5) years. With options for $1,500 to $10,000 in monthly benefits for nursing home, assisted living, adult day care and in-home care expenses, this plan allows for specific budgeting in offering partial years (e.g. 2.3 years coverage) with plan build years up to 8.3 possible.
Worthy of mention, inflation compounding duration options in this plan are available in 10, 15 and 20 years; which allows for increased focus on premium pricing for those in their 60s and 70s. The joint waiver of premium optional rider assures that when one insured is in a qualified care event, no premiums are due during that time for either insured.
MutualCare Custom Solution is ideal for individuals and couples who want to be very specific with long-term care planning.
For both plans, there is comfort in the Alternate Care _benefit, built into the plan for "services or treatments that don't exist today yet may become standard practice in the future as well as the _International Benefit, which pays up to 12 months of maximum monthly benefit for qualified care received when traveling outside of the US, Canada or UK.
Respite, care coordinator and hospice benefits are also standard in Mutual of Omaha plans.
Coverage is available for ages 30 – 79.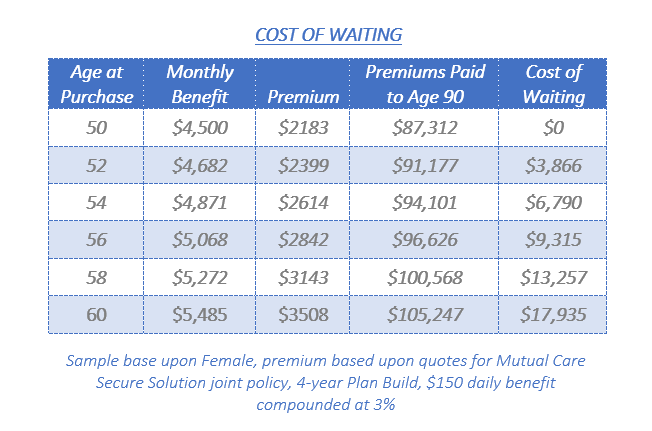 Discounts:
Couple - both applying: 30% discount if you and your spouse or life partner each buy the same long-term care policy from Mutual of Omaha.
Couple - one applying: 15% discount.
Preferred discount: 15% if you are in good health, after application and at underwriting, you may qualify for a preferred rate.
Mutual of Omaha Financial Ratings:
AM Best: A+ Standard & Poors: AA- Moody's: A1
Mutual of Omaha Customer Service:
The Better Business Bureau accredits Mutual of Omaha and gives the company an "A+" rating. The company has a minimal number of complaints for a company of its size (4). The customer support staff is visibly responsive in an effort to resolve any pending issues.
ConsumerAffairs readers rate the company 3 out of 5 stars with the majority of the complaints speaking to coverage, claim payments and time spent on hold during telephone calls. Mutual of Omaha has made timely response to consumer complaints and appears to be working to provide resolution.
Retirement Living gives Mutual of Omaha 4.25 out of 5 stars with specific ratings for Options 4.5 stars, Product Availability 4.1 stars, Policy Features 5 stars and Customer Service 4 stars.
Get Your Free Comparison of the Top 10 Insurers
It takes less than five minutes to get started.