Hybrid Long Term Care Insurance Policies with Life Benefits
Updated July 6, 2020.
If you're investigating Long Term Care Insurance, you'll want to also compare a Hybrid LTC policy where you purchase a policy and have it completely paid off in a 1, 5 or 10-year payments.
Traditional Long Term Care Insurance rates can be increased, so it's wise to look into hybrid long term care insurance because this product has a guaranteed premium. It also has a life insurance policy at least equal to premiums paid in built into the plan that is paid out to the family tax free at death if care is never needed.
Insurers have embraced the idea of offering Hybrid Long Term Care coverage with a 1,5 or 10 year premium payment choices. Over a dozen cutting edge hybrid-LTC products have hit the market in the last five years. Companies from John Hancock, Nationwide, Minnesota Life, Lincoln to Pacific Life are big players here, offering Long Term Care benefits as part of a larger life insurance policy.
Cash Benefits are another major advantage of hybrid policies offered by both Nationwide and Securian's Minesota Life. Cash is king, as they say, and it's no different in the LTC world. Cash benefits mean you can spend your benefits dollars as you see fit without having to get care providers (at home or in facility) approved. The flexibility and lack of paperwork can be a big advantage if you want to save yourself time in the future. If you have kids, they will thank you for buying a cash indemnity policy. Some companies literally don't even have a claim form; once eligibility is confirmed they just mail the money each month.
Example Quote for a Hybrid Long Term Care Insurance Policy
Let's take a healthy 62-year-old male and consider "traditional" Long Term Care Insurance quotes vs. a Hybrid Life Insurance / Long Term Care policy from one of the A+ rated insurers that offers these types of plans. This particular client would pay $3,340/year for traditional LTC benefits[1] of $306,000. The same client would have to make a single premium payment of $100,000 to purchase a hybrid policy with similar benefits of $339k in LTC benefits and $113k Life Insurance benefit paid to the family if care is never needed. Here's a table of the benefits schedule: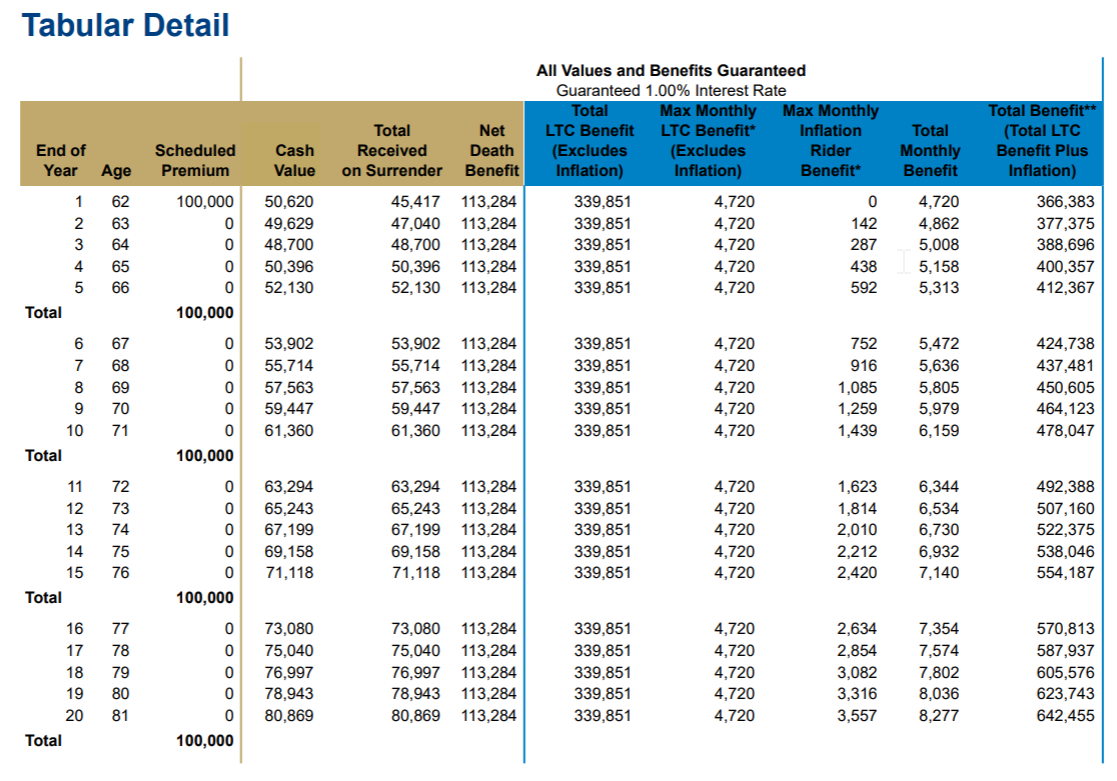 This table continues, but the trend is clear. Long Term Care benefits (in the last column) grow while the death benefit shrinks with age until it levels off at $113k.
Considering you are more likely to die the older you are, this may seem counter intuitive, but keep in mind the reason you purchase these policies is to protect against Long Term Care. The Life Insurance benefit is almost like a bonus, or hedge in case you never used your LTC coverage.
Can I Pay For a Hybrid Long Term Care Policy From My IRA?
It may be possible to pay for a hybrid policy from your retirement account (IRA) via a SPIA which stand for Single Premium Immediate Annuity. Life insurance policies cannot take IRA 1035 exchanges, but annuities can. You transfer the IRA money to the annuity and the annuity then pays the premium. As with any complex tax issue, consult with a CPA before making any decisions about moving money into or out of one of the hybrid LTC plans. The IRS has a few resources on the topic here and here.
Comparing Life Insurance with Long Term Care Rider to Regular Long Term Care
Every situation is different, and premiums are based on your age, state, health, and martial status. Consult with a qualified adviser (you can do it online, below) who can go out and search the market to compare your options when it comes to which Long Term Care policy to consider. See the chart below to view how the power of compound interest will grow your benefits over time.

Protection From Rate Increases
Hybrid Long Term Care Insurance plans' premiums are guaranteed to never increase. This gives you the ability to plan ahead knowing you Long Term Care plan is locked in so you can enjoy retirement. As with any financial decision, having a trusted adviser is the most critical element. Avoid taking advice solely from your financial adviser, especially if they sell these products. They often have their hands tied to one company only, leading to biased advice. We work with every company and will shop the entire market with once source as opposed to having to go to multiple people all telling you how the single product they sell is the best. We work with every company and have no preference to any one company. Objectivity is the key and objectivity is in our company's DNA.
Get Your Free Comparison of the Top 10 Insurers
It takes less than five minutes to get started.