Sep 6th, 2012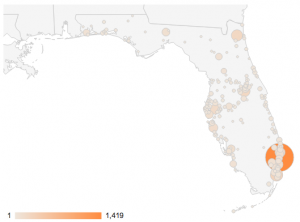 Live Data: What cities in Florida are researching Long Term Care Insurance? Click to expand.
The Sunshine State accounts for 3.30% of the Long Term Care Insurance market, and 6.2% of the U.S. population, meaning Floridians protect themselves at smaller proportions than the rest of the country.  Florida is also a retirement haven, with many baby boomers moving here each year, so Long Term Care insurers would be remiss to ignore this market.
Internal data suggest that Florida residents purchase Long Term Care Insurance at lower premiums per dollar of benefit than virtually any other state.  This is because the genration of Long Term Care policies in Florida available for sale is older with several of the major companies.  Newer policy series available in other states generally are priced higher for the same benefits.  This is current as of September 2012, but may change over time as the state insurance regulators approve newer versions of policies.
Unique Features of Long Term Care in Florida
Florida, due to its large size of retired citizens and its overall population, has a robust regulatory environment, and the Long Term Care policies sold in Florida will often differ from other states.  While many states are part of an "Interstate Compact" that essentially rubber stamps insurance policies rolled out by insurance companies, Florida reviews policies individually.  As mentioned above, this leads to a lower rate structure under current conditions because Florida has not approved newer, more expensive policy forms from many of the major Long Term Care insurers.
The state has even set up a Long Term Care-specific site.
Virtually all major insurance companies have approved Long Term Care policies in Florida, with nine companies approved for Partnership policies, which we recommend.  The Partnership-approved companies are:
[divider]
Companies Selling Partnership Policies in Florida
Company names are followed by their product names, where available...
Massachusetts Mutual Life Insurance Company, Signature Care MM-500 2011
Genworth Classic Select and Privileged Choice 2007 Florida
LifeSecure Individual LTC
MedAmerica Simplicity II
Mutual of Omaha Mutual Care Plus
New York Life LTC Select Premier 5.5
Northwestern Mutual TT.LTC (1010) QuietCare
Transamerica TransCare
United of Omaha Assured Solutions Gold & Cash-First FL
United Security Assurance Company of Pennsylvania
[divider]
This data was collected and analyzed on September 6, 2012, and is partial and not complete, as other companies may sell Florida Long Term Care Partnership policies.  Over time, we expect more companies to have Partnership-approved policies.
[divider]
[button link="http://www.comparelongtermcare.org/quotehealth?state=Florida" color="#04B404" window="false" size="medium"]» Get Six Free Florida-specific Quotes »[/button] [divider]
Partnership Policies & State Requirements
[accordion sync="false"]
[accordion_item title="Under 61 years old" open="true"]
Under 61 years old: when you buy the policy, it'll provide annual compounded inflation increases for benefits to cover the cost of your care.  When you turn 61, you can change the inflation protection provision to meet the requirements of the next age bracket. [/accordion_item]
[accordion_item title="Ages 61 to 76"]
Ages 61 to 76: You must buy and keep some form of Simple inflation protection until you are 76.  (Simple Inflation is a minimum - we recommend 5% compound for those expecting use out 15+ years) [/accordion_item]
[accordion_item title="After age 76"]
After age 76: Insurers must offer inflation protection, but you don't have to buy it or keep it. [/accordion_item]
[/accordion]
[divider]
Florida Long Term Care Insurance News
Updates as needed with state regulations changes, product updates, etc.
Get Your Free Comparison of the Top 10 Insurers
It takes less than five minutes to get started.